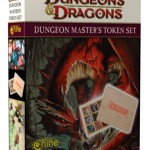 I just got my new Dungeon Master's Token Set from Gale Force Nine. It's probably one of the nicest gaming accessories I have ever seen. It comes in a nice wooden box with small compartments for the counters and a larger one for your dice, pencils, etc. The lid doubles as a dice tray and is lined with felt.
There are 50 tokens to help you keep track of ongoing damage, people who are bloodied, marked, other conditions. They are acrylic so you can use your mat markers to make notes on them.
I can't wait to use this on Thursday when we get together to game. It is a really amazing set and I am really looking forward to using it.